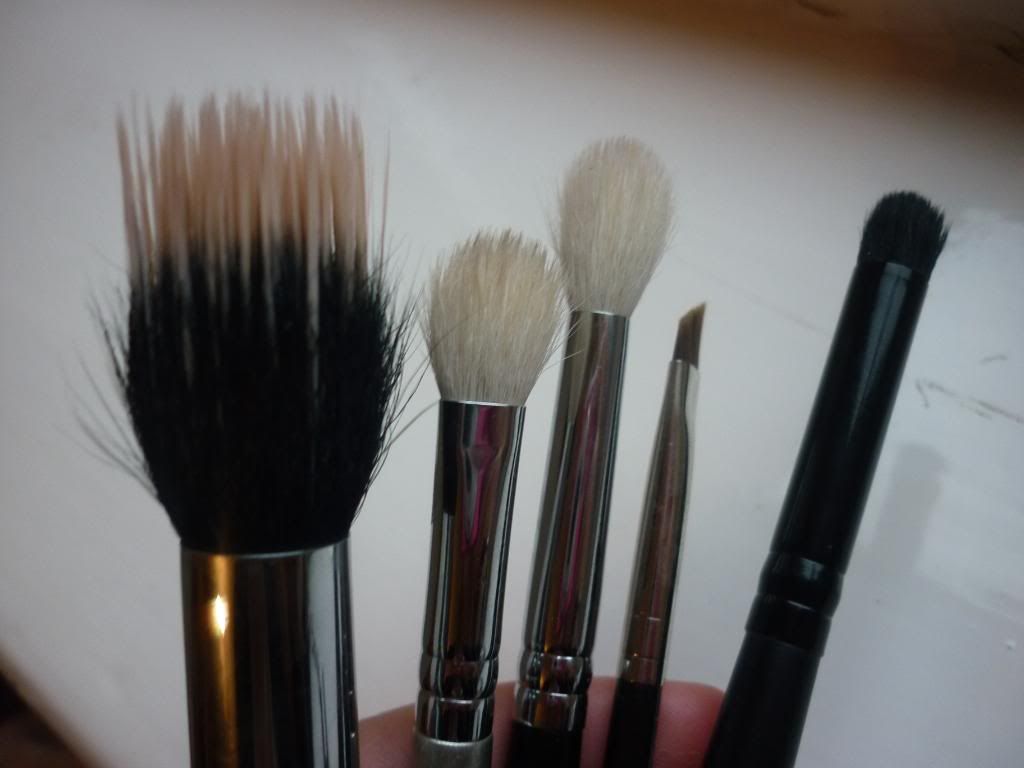 Here are some of my most favourite brushes out of all the ones that I own, I have mostly Sigma but I'm not a makeup brush snob! I love my elf brushes and I'm also currently looking for some more cheaper brands to try out. I think it's definetely so important to have the correct brushes for the type of look your're trying to acheive, a smokey eye would never work out without some form of fluffy brush! My freinds frequently question how I do my eyeshadow nicely for a night out, and that they can't do it, but I always tell them they could do it if they owned the right brushes! I love to hear how people personally use makeup brushes, I was usually always very stick to the rules only use a conceacler brush for concealer kind of girl, that is until i saw Nic from pixiwoo using a blending brush for concealer, I'm continually trying to look for new and creative ways to use brushes now! :)
Anyway, without further ramble, some brushes and descriptions! Unfortunately I'm not so great when it comes to looking after my brushes, they're looking a little worse for wear however I did just give them a little clean up before I took some pictures!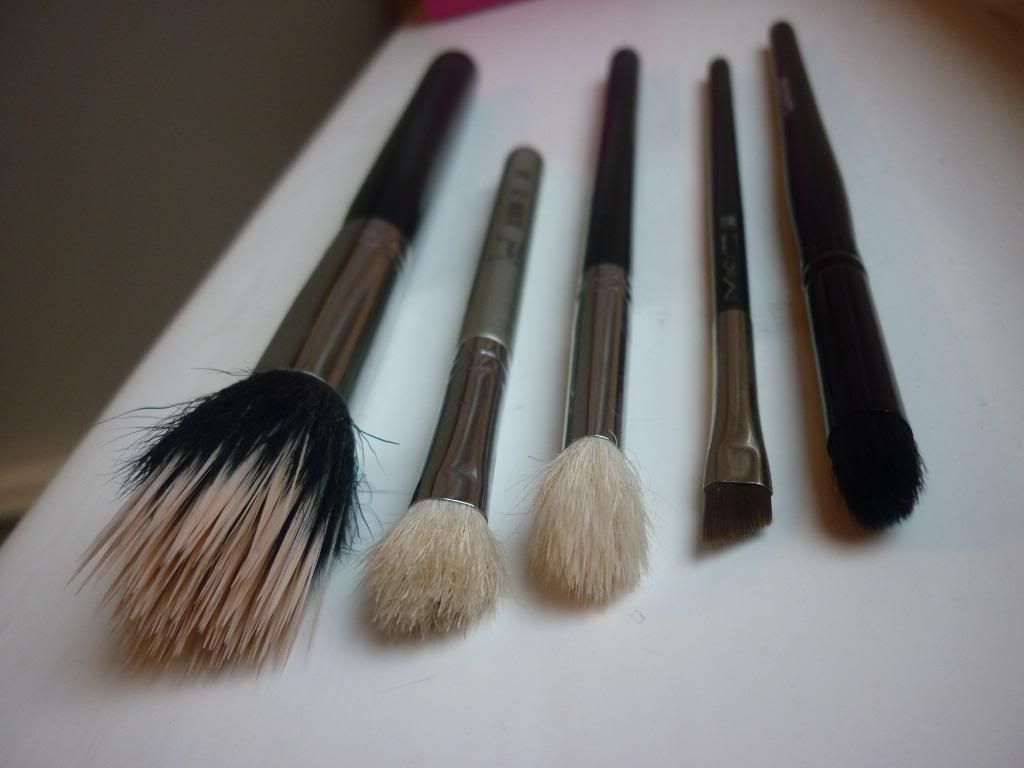 Sigma F55
: My ultimate face brush! I'm such a fan of buffing foundation in with the duo fibre style brushes. This is a great size but I'd really like a bigger one. I also use this for bronzer/blush.
Sigma E25
: This shorter handled silver brush was actually a freebie from Sigma, I have two of them! I actually use this for a number of things. One is blending, as it's lovely and fluffy, two, its great for just applying a wash of colour to your eyelids, and lastly, it's not typically domed shaped like your usual blending brushes, it's a lot flatter, so I think its great for blending hard to get to sections like underneath your eye, and a more precise blending brush for the eye crease.
Sigma E35
: Probably my number one brush of all time! A domed tapered blending brush. Gets rid of the harsh lines. Soft. Fluffy. AMAZING. Also have another one of these for blending out concealer underneath my eyes. I think everyone should pray to the makeup gods for one of these tonight because you'll soon find out you simply can't live without it!
Mac 263
: Since I love to play around with my brows I had to put this in. This is actually the only Mac brush I own! It's really thin and stiff so you can acheive really accurate lines. Also great for winged eyeliner. A must have in your collection!
Elf Studio contour brush
: A recent addition to my brush collection but a sure favourite! Perfectly shaped to fit right in to your crease. I love applying a nice dark eyeshadow all the way along my crease with this and then blending it out with my Sigma blending brush. The brush is also quite dense, so you can pack quite a nice amount of eyeshadow if you wish to!
Shockingly I don't have any flat shader style brushes in my little Top 5 but we've all seen them before and been told that they're great for packing colour on to the lid. Personally, I love fluffy brushes, washes of colour and buffing.
What are your favourite brushes/brands?! Any good brands for me to try out?!
Love, Hol xxx