When i first had a look through the Glitter and Ice collection on Mac, i wasn't really too impressed! First of all, i know usually the little boxes of colour that represent the colour of the product on Mac are usually a little off, but this time i was shocked at how bad they were! I went on Temptalia to check her swatches ( I just KNEW she would have them ;) ) and one of the paint pots "for effect" was literally black, compared to the very light brown shade shown on the Mac website! Annoying!
But anyway, having a new love for paint pots from Mac, i can forgive them for bad swatches since the paint pots from this collection are SO gorgeous. I got two of them, "For Effect" and "Lets skate!". I wasn't a major fan of the colours of glosses or lipsticks in the collection judging by temptalias swatches, and i almost never even consider buying nail varnish from Mac, but "Unconditionally Fabulous" is right up my street! It fits the whole christmas theme perfectly since the varnish itself looks like the inside of a snowglobe after you've shaked it up! So pretty! If you're not a fan of glitter than i'm afraid this one just isn't for you.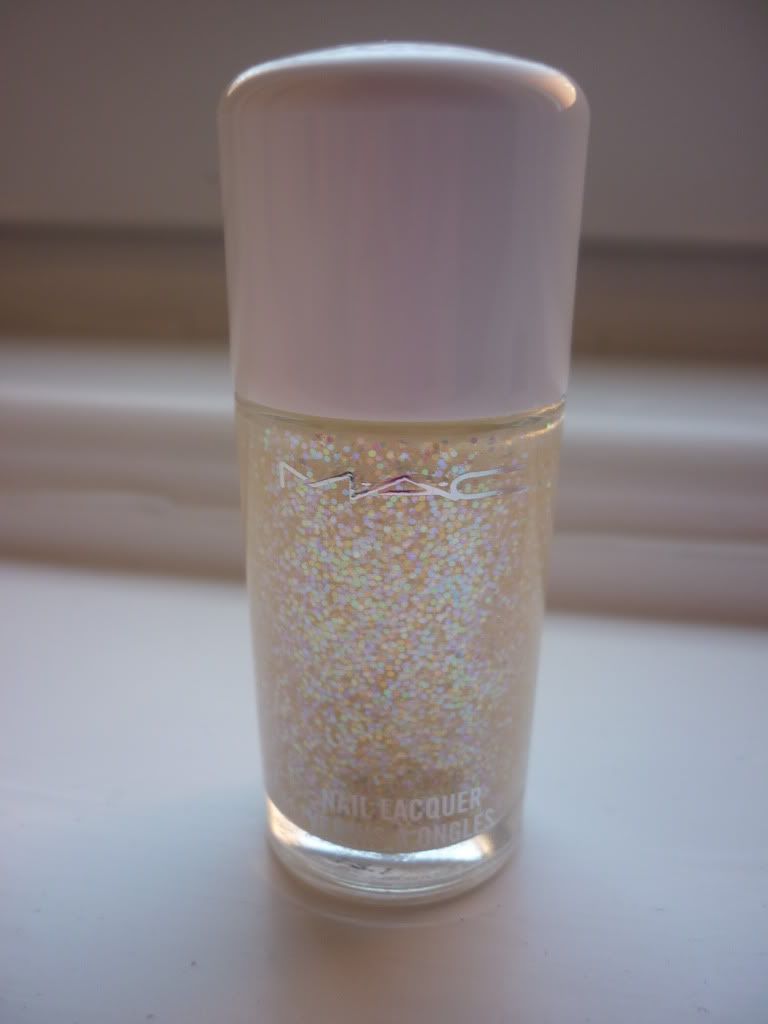 Look how gorgeous it is though! It's really difficult to take a good picture of this because every time i look at it in a different room or a different light i see a different colour glitter in it. You do have to apply a couple of coats of it on your nails as it's typically a glitter varnish that spreads the holograms very sparesly on your nails, or even better pick a lovely baby pink/white/whatever takes your fancy and throw a few coats of this on top for a very wintery feel!
Now the paint pots are by far the most gorgeous things i have seen! Againt they are difficult to get a good picture of because whenever you move them you see a different shimmer to what you saw before. "Lets Skate!" is a lovely baby pink with flecks of what i want to say are gold! I can just imagine this would look so pretty by itself on your eye with a little bit of mascara, or i think as a highlighter as it is very similar to my dior pro cheeks that i have! Whatever you want to use it for, its perfect for winter.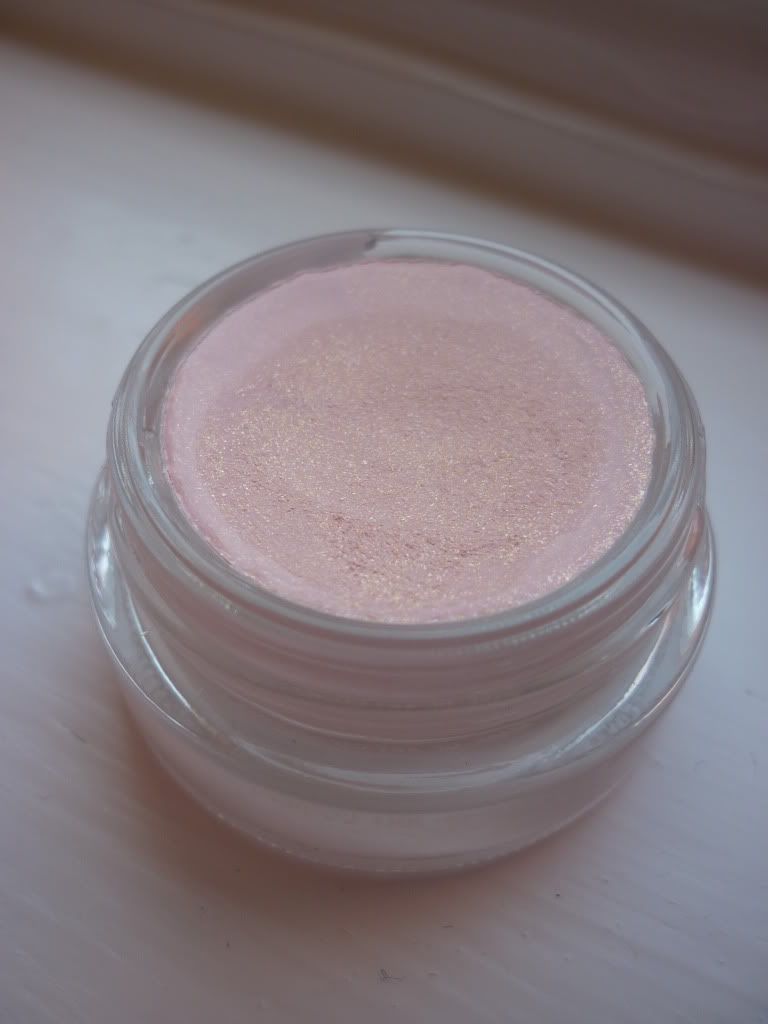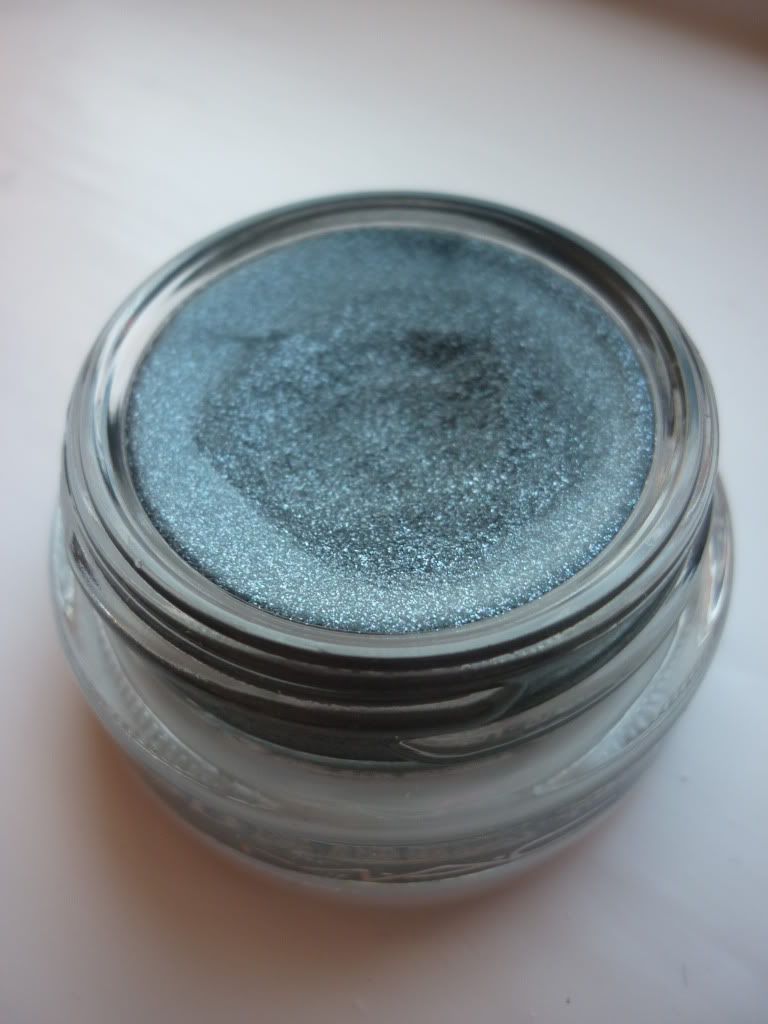 "For Effect" is another gorgeous paint pot, a lovely black with silvery running through it. In all honesty, i would love to know people opinions on what colour this actually is, somes it looks black, but as i'm writing this it looks like a very deep navy. Again this would be lovely just put on to your eye by itself, either blended out for a more subtle look, or piled on for intense party eyes (Hey it is party time over the holidays right?). The great thing about this shade is that it is very easily buildable to get a more deeper colour, unlike the the pink shade which doesn't really change at all if you put alot on (But the shimmer it gives is amazing!).
What does everybody think about this collection in general?! Will you be buying anything? Being a glitter lover i was hoping they would maybe include some glitter in this collection, especially with it being called "Glitter and Ice" never mind!
Love, Hol xxx